Sitter Companion service
Professional Home Health Care Sitter Services are available anywhere from a few hours to 24-hours a day. Professional Home Health Care also realizes that care does not always end when a patient leaves a hospital or medical facility. Should the need arise, Professional Home Health Care's caregivers are available to transfer care to the comfort of the patient's home. Our Sitter Services are also available when a family caregiver is unable or unavailable to assist with their loved one's needs.
Professional Home Health in-home sitter services may include the following:
Reminding (medication, dates, routines, etc.)
Maintaining patient's comfort level
Assisting with meals and feeding
Providing companionship and conversation
Seeking assistance from the hospital/facility nurse when patient is in need
Monitoring patient activity (i.e. ensuring patient stays in bed, IVs remain in place, etc.)
Supervising patient through the night, ensuring family members that their loved one is safe when they are unable to be there
Entertaining (games, crafts, reading, etc.)
Assuring the patient will not be left unattended and will be accompanied by aide at all times
Assisting with personal care activities (bathing, grooming, etc.)
Assisting with mobility
Performing light housekeeping
Running errands (prescription pick-up, dry cleaning, etc.)
Organizing and reading mail
Grocery shopping
Escorting to appointments and social events
Assisting with pet care
In Home Telemonitor program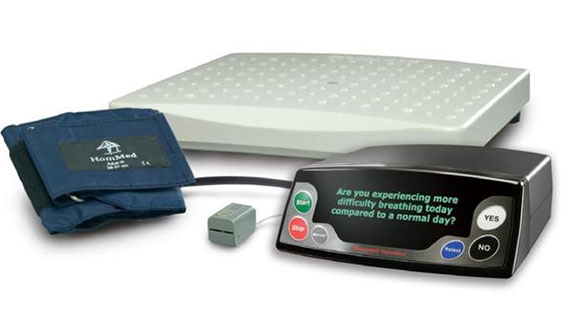 Professional Home Health Care Telemonitoring Program
Telemonitoring can help prevent a symptom from becoming a trip to the hospital. Professional Home Health Care in home Telemonitoring Program is a fast, simple way for us to keep an eye on your vital signs and symptoms every day. That means we can catch an early warning sign, such as a sudden rise in blood pressure, and treat it before it becomes a bigger problem. It also gives your physician information that is important for your ongoing care. Telemonitoring allows us to check your blood pressure, heart rate, oxygen levels, weight and health status.
This telemonitoring program is possible thanks to the . It lets you take your own vital signs with ease, and sends them to us over your phone line with the push of a button.
This service won't cost you anything. We provide it as part of our home care services.
Congestive Heart Failure (CHF) Management Program
Connected Cardiac Care is a home telemonitoring program for people diagnosed with heart failure. This program allows you to monitor your health daily and will help you and your physician manage your heart failure from your own home.
Our team brings easy-to-use equipment to your home, installs it for you and shows you how to use it. There is no cost to enroll or for use of the equipment.
Heart failure is a chronic, life-changing and difficult disease to manage. At the end of this four-month program, you will have the confidence to take charge of your own health.
Call to Learn More
For more information about telemonitoring services from Professional Home Health Care at Home, call (817)268-0010.